Testimonials About Amazing Jeffo
Budget-Friendly Events ~ Just Call and Ask!
---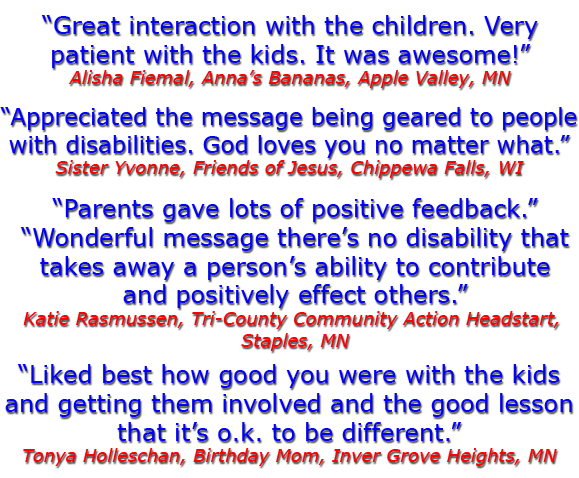 "We appreciated Jeff's message that we are all made special even if we don't think so."
Cheryl Olson, child's birthday, Farmington, MN ~ 651-460-4149
---
"Everything was great, especially the mixing of the Gospel with the magic. I really liked your message that Jesus loves us no matter what."
Tom Joseph, Principal, St. Joseph Catholic School, Rosemount, MN ~ 651-423-1658
---
"Liked the humor, life lessons and magic and the message that no matter what God gives us, we are blessed and capable of excellence."
Zac Mangel, Cub Master, Pack 103, Mpls., MN ~ 612-799-9007
---
"We appreciated the great, positive message mixed with the entertainment. It was appropriate for scouts and parents, uplifting and fun."
Tammy Johnson, Cub Master, Pack 117, Farmington, MN ~ 612-247-8540
---
"I liked how you got each rank of the Cub Scouts to provide participation in the show. It was good interaction with the audience. I thought it fit well with the Cub Scout motto of always doing your best."
Bruce Orthengren, Cub Master, Pack 273, Independence, MN ~ 763-972-8717
---
"I loved the continual joking added into the magic tricks."
Michelle Finholdt, Under The Rainbow, Red Wing, MN ~ 651-388-6433
---
"The kids really enjoyed the show, it was great! I liked the accepting people with differences message."
Kimoth Jackson, The Family Place, St. Paul, MN ~ 651-209-6634
---
"Appreciated your message to use our god given abilities to encourage others. God uses you because you said YES!"
Gene Engebretsen, Christo Vive International, Big Lake, MN ~ 763-263-1526
---
"I've seen Jeffo before so I expected the show to be outstanding. But I'm always surprised at the great job he does, especially his positive, can-do message with so much humor."
Tom Cloutier, North Suburban Summer Academy, Columbia Heights, MN ~ 763-755-0937
---
"You are a blessing and inspiration to all. A positive, enlightening, can-do message."
John and Deborah Wasylko, Brunswick High School, Brunswick, OH ~ 330-441-2259
---
"Jeff's trust and hope in God was transmitted during his program. Kids sure liked the participation. Tricks and jokes were great."
Jean Wold, St. Albert Catholic Church, Albertville, MN ~ 763-497-3782
---
"Appreciated the message that no matter your situation you can earn a living and be happy."
Lisa Peichel, Girl Scouts, Chaska, MN ~ 952-556-8710
---
"It was a perfect fit for Trio Day about overcoming adversity. Liked best your use of humor to present lessons on perseverance."
Tallie Sertich, Hibbing Community College\Trio Association, Hibbing, MN ~ 218-312-1509
---
"The message sunk in with both kids and adults. They got it!"
Chris Reeves, Our Redeemer Lutheran, Oakdale, MN ~ 612-816-6427
---
"Liked best the humor, tricks and how Jeff treated the audience. Appreciated message that disabilities do not have to hold you back from anything."
Shannon Pieh, Medina Creative Housing, Medina, OH ~ 330-591-4434
---
"I enjoyed how you interspersed the Gospel with your show. It was natural and inviting. Liked your positive attitude and audience involvement."
Judy Peterson, Excelsior Covenant, Excelsior, MN ~ 952-474-2537
---
"We liked everything about the show. The magic was great. Appreciated the message that a person can do anything they want to do."
Jill Jones, Child Birthday Party, St. Paul, MN 55119, 651-778-9437
---
"Side-splitting comedy!! Your message was universally positive."
Denise Wycherley, West Virginia Northern Community College, Wheeling, West Virginia, 26003, 304-214-8938
---
"Liked the humor and especially your message to have fun and laugh."
John Hubbard, Adult Birthday Party, Mpls, MN, 612-588-5004
---
"We liked everything! Really appreciated the message that you can do anything if you really put your mind to it."
Nancy Willis, DDDC, Mankato, MN, 507-344-0929
---
"We loved your wonderful personality and Bible verses."
Lillian Carlson, Seniors Coordinator-Pairs & Spares, Hope Church, Richfield, MN, 612-869-0444
---
"Thank you so much for being a part of this special day. Your message during the commencement address taught us all a little about life! Thanks again."
Nicole Zweber, Teacher, MN State Academy for the Blind, Faribault, MN, 507-384-6725
---
"Jeffo really got the kids going; He was great! Even the adults were amazed! I will definitely refer you."
Chrysti Sartain, Cub Master Pack 514, Coon Rapids, MN, 55448, 763-208-1610
---
"You included the audience and made them feel comfortable. I appreciated your message to accept yourself and realize you can do anything."
Julie Mersch, Neighbors\Come As You Are - S. St. Paul, MN 55075, 651-306-2145
---
"The kids laughed and really enjoyed it. Appreciated the message of ongoing belief and commitment to God."
Cinthia Biros, Nativity of Mary, Bloomington, MN 55420, 952-881-8671
---
"His show reflected his story and drive and love of life."
Brooke McCarty, Doodle Bug Daycare - Lakeville, MN 55044, 952-985-8805
---
"I liked the good pacing, bible points and scripture spread between illusions and humor."
Sarah Storvick, Resurrection Lutheran - Woodbury, MN 55129, 651-730-1000
---
"I liked the variety of things, between music, jokes and magic. Great audience participation. Jeffo encouraged our campers to not give up and know that they can do anything they set their mind to."
Kayla Anason, Friendship Ventures - Camp Eden Wood - Eden Prairie, MN 55346, 952-858-0101
---
"Jeff definitely keeps the show at the kid's level. Jeff presents a great show that encourages kids to do their best."
Shar Lavelle, St. Matthew ELC Child Care - St. Paul, MN 55109, 651-224-1450
---
"Jeff was great with the kids. His humor was also appropriate; He was interactive."
Belinda Egan, child birthday - Lakeville, MN 55044, 651-319-3453
---
"Liked how you involved the crowd. Appreciated your message of perseverance and getting over the fear of failure."
Deb Holmgren, Club West Community Coop - Blaine, MN 55449, 763-792-9073
---
"Appreciated most the message that kids can do anything they put their minds and efforts into it. It involved everyone, even teachers. The kids thought the humor and magic were great."
Kari Anderson, Children's Connection - North Branch, MN 55056, 651-674-0044
---
"Very entertaining and held the attention of the audience."
Joann Weldon, Frank Gelles American Legion - Plum City, WI 54761, 715-647-4581
---
"The show was perfect for children. Good pacing and appropriate humor. Funnier than expected! The message was uplifting and encouraging."
Sue Loiacono & Rose Bryant, Epiphany Extended Day - Coon Rapids, MN 55433, 763-755-7341
---
"Liked best the humor and audience interaction\ participation."
Jim Grimm, Our Space Child Care - Hopkins, MN 55343, 952-933-9540
---
"Funny, Witty, Revealing disabilities. Appreciated how he combined sacred scripture with humanity."
Dick Adams, Our Lady of the Lake Catholic - Big lake, MN 55309, 763-263-2863
---
"Upbeat; filled with bible truths and passages. Shows us how not to think of ourselves as victims. Shows how to concentrate on God's gifts to us."
Ellen Linhart, Christ Lutheran School - Pittsburg, PA 15221, 412-271-7173
---
"Funny, sweet and Mr. Amazing Jeffo was easy to work with. Better than expected. Loved the message of perseverance."
Jen Redrup, Belmont Technical College - St. Clairsville, OH 43950, 740-699-3815, X 1054
---
"Interactive. Always fantastic! Loved all the scripture references."
Julie Ryan, North Point Church - Andover, MN 55304, 612-812-8852
---
"I just wanted to thank you again for the wonderful job you did today at our church. Your show was fantastic! My wife and I couldn't stop talking about your great jokes and tricks. You are truly amazing and I am blessed to have had the opportunity to meet you. Until the next time, many thanks again."
Pastor Amery Gaines, Grove Christian Center, Maple Grove, MN, 763-424-6812
---
(Your message was well orchestrated and intertwined perfectly into our program mission. It was a motivational jump-start to people who have damaged self-esteem. It encouraged our clients to overcome hardships. Your humor and ability to improvise comedy was hilarious. You live to amaze.
Josh Kohman, Correctional Transition Services, Mpls, MN, 55412, 612-588-7530
---
"Non-stop humor and great magic tricks. I appreciated his message be positive and see a challenge as an opportunity."
Tom Cloutier, North Suberban Summer Academy, Coon Rapids, MN, 55448, 763-755-0937
---
"Engaging, funny and creative, everything about the show was the best. I appreciated how simple and heart felt the message was."
Sarah Place, ISD 623-Friendship Connection, Roseville, MN, 651-482-0420
---
"Jeff presented a clear message of Easter and God's love."
Sara Galligan, Wayzata Free Church, Plymouth, MN, 763-473-9463
---
"Every child was engaged for the entire time. It was presented in a way that even the youngest could understand."
Lacey Wellens, Berea Lutheran, Richfield, MN, 612-861-7121
---
"Liked the crowd participation throughout. Showed us that anything in life is possible."
Jenny Bergmann, Clayton Fire Department, Clayton, WI, 715-948-4155
---
"Great magic tricks and liked how the kids got to be involved. What a great fun way to meet a blind person."
Natalie Friend, Southside Family Charter School, Mpls, MN, 612-872-8322
---
"Jeff played to the level of the kids while keeping the adult's interest. Very good Preparation. Appreciated the honest humor and nice dovetailing with a Christian attitude."
Bob Martinka, Cub Scout Pack 348, Eden Prarie, MN, 952-829-8815
---
"The magic and the humor and the gracious friendly way you present is what I liked best about the program. More than expected. Uplifting without being too pushy."
Diane McLane, Senior Apartments, Eagan, MN, 651-455-6956
---
"Your show taught us the value of including people with disabilities in a fun way."
Dale Blomgren, Cub Scout Pack 422, Eden Prarie, MN, 952-402-2155
---
"Entertaining for the children and adults. Liked how you taught that everyone is special in their own way."
May Vang, Parent of Birthday Party recipient, 612-226-7677
---
"Great variety of tricks. Appreciated audience/scout involvement and the show moved along well. The message was right on! Showed us to do your best with what you have and overcome personal barriers. Thanks for a good show!"
Mike Winter, Cub Scout Pack 391, Chaska, MN, 952-448-7848
---
"Student interaction was great. Magic tricks were really impressive. The Q & A really showed a depth of experience and knowledge."
Melissa Fletcher and Josie Hurka, Concordia University, 651-641-8278
---
"The show was a great mix of tricks, audience participation, Gospel lessons and humor that entertained all ages in the audience. Good balance of life lessons and entertainment."
St. Ann's Catholic School, Wadena, MN, 218-631-2631
---
"I enjoyed how Jeffo was able to combine his message of disability awareness with inspiring kids to do amazing things. Appreciated audience participation."
YMCA Community Services All Star Hour, Northfield, MN, 507-645-0088
---
"It was fun and had a great message - EVERYONE HAS DIFFERENT ABILITIES THAT MAKE THEM SPECIAL. I think these scouts could have watched all day long."
Trent Koukol, Cub Pack 523 Isanti, MN, 763-444-6422
---
"Great humor and routines aimed right at the kids. Great show. Positive and great use of humor."
Tom Cloutier, North Suburban Academy Summer Program, Columbia Heights, MN, 763-755-0937
---
"It moved along and I liked the joking. Can't believe what all you can do being blind. Amazing, an inspiration to all."
Dianne Fiala, Ann Kreuth, Oak Ridge Assisted Living, Hastings, MN, 651-438-0418
---
"Good magic and humorous. We loved it!"
Joan Hartman, White bear Lake United Methodist, White Bear Lake, MN, 651-429-9026
---
"Great sense of humor. Positive and upligting."
Meddie Williams , Crayon Box Child Care, Fridley, MN, 763-784-4386
---
"Interacted well with the children. I think it's important that children learn about disabilities and how to cope."
Kathy Engel, Librarian, Henderson Public Library, Henderson, MN, 507-248-3880
---
"Amazing Jeffo is funny, talented at magic, good with all people, and overall a delight to watch and experience. He delivered in all ways beyond all of our expectation! The adults with special needs enjoyed hearing about their abilities and not their disabilities."
David Miller, Neighbors Inc. - Come As You Are, South St. Paul, MN, 651-306-2145
---
"Really appreciatred how the show was geared to the disabled audience."
Nancy Willis, Different Drummer Dance Club, Mankato, MN, 507-343-0929
---
"The humor and visibility of the tricks were great! Everyone had so much fun-even the middle school kids were impressed-and got it."
Danette Grimsrud, Fillmore Central Elementary/Middle School, Preston, MN, 507-765-3809
---
"One of the ways to evaluate a show like this is to notice how much you hear the kids laughing. I noticed the kids laughing a great deal during this show. I thought he was great and the kids loved him. I'd do it again."
Jerry Donald, University Ave. School, Blaine, MN, 763-506-4578
---
"Inspiring performance of spiritual values through humor and illusion."
Sister Felissa Zander, OSF, Stone Lake, WI, 715-865-3662
---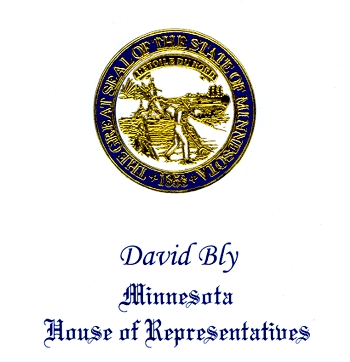 ---
"Loved the illusions and wit. It was fun and encouraging."
Jane Dibbern, Coordinator, Soaring Eagles Seniors, Woodbury Lutheran, MN 651-739-5144
---
"Liked best your personality and humor. It was entertaining and evangelical."
Tricia Morrill, Children's Ministries, Knox Presbyterian Church, Mpls., MN 612-822-2181
---
"Appreciated the most how Jeff intertwined his illusions with living for the Lord and dealing in compassionate courage with disabilities.
I'm going to spread your information to our principal's's conferences."
Phil Moll, Principal, St. Matthew Lutheran School, Winona, MN 507-454-3083
---
"The whole program was great. The adults and kids enjoyed all of it."
Lorey Malling, Cub Pack 34, Paynesville, MN 320-243-3361
---
"Super mixture of humor and magic and morals. Excellent show!"
Dan Stepan, Cub Pack 56, Woodbury, MN 651-735-7420
---
"Enjoyed how the audience was listening so well to the message."
Nanette Marsh, Ebenezer DayBreak, Hastings, MN 651-438-7800
---
"It was smooth, seamless and held the audience's attention. Not easy. Don't know how you did it. It was definitely out of the ordinary. Very good indeed."
Ruma Padukone, Parent, Elk River Library, MN 763-390-6923
---
"Kept all of our attention. Terrific message! - We are all special. We can CAN DO IT."
Cathy Greeder-Wiegert, ESL Teacher, Carver Elementary, Maplewood, MN 651-702-8236
---
"You made people laugh."
Julie Boyland, Le Sueur Retail and Business Expo, MN 507-665-2501
---
"You encouraged Great participation. Liked the Gospel message and your wonderful sense of humor."
Juanita Vanderpoel, Hope Lutheran Church, Mpls, MN, 612-521-3547
---
"Students and staff gave rave reviews. We love having you hear and look forward to having you again."
Erin Wisness, Southside Family School, Mpls, MN, 612-872-8322
---
"Your program was creative, had a lot of variety, and kept the attention of the kids. Appreciated your messages about having self-respect, perseverance, a sense of humor."
Anne Miller, Regions Hospital - Burn Center, St. Paul, MN, 651-602-6893
---
"This was much, much more than I expected. Jeff's faith based presentation fit this club to a "T."
Mike Fratto, Serra Club of St. Paul, St. Paul, MN, 651-771-4972
---
"He was very funny and entertaining. Appreciated Jeff's message about God's love."
Christina Carlton, Highland Catholic, St. Paul, MN, 651-690-2477
---
"Great Jokes, wonderful for the kids to see your huge talent and sense of humor. Appreciated the message of teaching us to take life in stride."
Tami Sulistyo, Child Birthday Party, Eagan, MN, 651-688-8991
---
"Liked how you involved the children in the performance. Taught a positive message about exploring alternative solutions."
Genie Kufus, Macalester-Plymouth Pre school, St. Paul, MN
---
"Jeff, We were at your show last night in North Hudson. Thank you SO MUCH!! You are so gifted and talented. We loved your show and it is amazing to watch you do what you do. I enjoy your humor, too. Best wishes to you in your endeavors. You are in the right field. Thanks!"
Heather, Cub Scout Mother, Hudson WI
---
"Jeff, Thanks so much for coming to Word of Grace last Sunday. We thoroughly enjoyed your humor, music and audience rapport. Explained pertinent matters about salvation and Jesus very plainly. Thanks again for your great performance!"
Audrey Dahl, Word of Grace, Mpls., MN, 612-721-6271
---
"All great how you taught kids to be comfortable around people with disabilities."
Joy Haasan, Lake Harriet Montessori Preschool, Mpls., MN, 612-825-8517
---
"Everything was great - from magic to humor to music. Very funny!"
Katee Dauer, Birthday Party, St. Paul, MN, 651-690-4912
---
"It was perfect, better than expected. Positive message!"
Liz Leach, KinderCare Learning Center, Cottage Grove, MN, 651-458-1781
---
"I liked best the humor, yet a strong, solid message."
Carol Gustafson, MN Valley Free Lutheran, Lakeville, MN, 952-432-7197
---
"Liked your comedy, age appropriateness and very funny! - also message showed an understanding of differences of people and disabilities."
Precious Johnson, New Horizon Academy, Woodbury, MN, 651-731-5222
---
"I liked how you emphasized within your show differences among people and that differences make us special."
Allie Kob, St. David's Child Development and Family Services, Minnetonka, MN, 952-548-8777
---
"I liked Jeff's sense of humor, timing, delivery and use of scripture and Biblical application."
Shari King, First Baptist Church, Mpls., MN, 612-332-3651
---
"Got into the humor."
"Liked your style."
Joel Luker, Salvation Army, Austin, MN, 507-437-4566
---
"I want to say thank you for performing at Hope Lutheran Church in Minneapolis last weekend! My two daughters and their three friends haven't stopped talking about how good you are!
So thank you so much for what you do! You have blessed us!"
Denise Hoidal, Hope Lutheran Church, Mpls, MN, 612-521-3547
---
"We appreciated the focus on the central theme of Christ. Entertaining and non-threatening outreach."
Melani Sherbet, First Baptist Church, Cokato, MN, 320-286-4562
---
"I liked the positive attitude of Jeff and fun humor."
Bruce Pap, Teacher, Centennial Middle School, Lino Lakes, MN 763-792-5476
---
"Great humor and involved the audience."
Pete Marshall, Cub Scout Pack 451, Eagan, MN 952-967-5807
---
"Appreciated how you incorporated our mission and information about us into your act. It was great!"
Beth DePoint, Rise Inc., Spring Lake Park, MN 763-783-2822
---
"The kids were interested and engaged in the magic tricks - they were "wowed.""
Colleen Martinson, Hope Community Academy, St. Paul, MN 651-796-4526
---
"Thank you so much for making our wedding day special! You are Amazing!"
Christine and Lyle Bright, Coon Rapids, MN 763-535-4467
---
"I thought it was great, I love the subtle humor and pace of the show. How do you do it?"
Michelle Kappes, Best Foundation, Inver Grove Heights, MN 651-450-2210
---
"Had the kids involved, and very funny. Kids really enjoyed themselves."
Amy Carney, Middleton Elementary, Woodbury, MN 651-768-4900
---
"Connection with elementary age kids - they were right with you."
Carol Friberg, Trinity Lutheran Church of Minnehaha Falls, MN 612-724-3691
---
"Working with Jeff, a fantastic individual, and the humor he puts into his performances. My students kepp mentioning the jokes. The show perfectly served our needs."
Tom Cloutier, North Suburban Summer Academy, Coon Rapids, MN 763-755-0937
---
"Illusions were great and harmonica wonderful."
Sister Lisa Kittock, St. Benedict's Monastery, St. Joseph, MN 320-363-7114
---
"Thank you, Mr. Smith, for a very enjoyable evening. You are an inspiration."
Dawn Huso, First Covenant Church, St. Paul, MN 651-774-0344
---
"Liked how you showed the kids how to overcome adversity."
David Cleland, Cub Pack 344, Northfield, MN 507-663-1545
---
"Jeff was great with the kids, especially such a challenging age group (pre-school). Great balance between message and magic."
Sara Galligan, Wayzata Evangelical Free, Plymouth, MN 763-473-9463
---
"I liked your sharing of faith and "bad jokes"."
Janet Boland, Normandale Lutheran Church, Seniors Group, Edina, MN 952-929-1697
---
"Liked how you incorporated Jesus into so much of your act; It was great."
Deb Diederich, Redeemer Lutheran Church, Fridley, MN 763-574-7445
---
"Thank you Amazing Jeffo so much you were so much you rocked happy Ester. Sorry if you not her to show it agina."
Kailey, 1st grade
---
"Thank you! Wow! That was awesome. You really got a laugh out of us. I hope you come again."
---
"Thank yoy. I hop you can cume bak son Amazing Jeffo. I like your magik triks."
Anna, 2nd grade
---
"Dear Amazing Jeffo! Thak you for coming to the day care and showing everone your amazing magic. It was geart but I wasn't here. I missest the whole magic show. I feel realybecause I like when people show how to do magic. I get exicted."
Leon, 2nd grade
---
"Do you like being blind?"
Dayton, 3rd grade
---
"Thank you Amazing Jeffo. May you give happy years of magic to all. Oh and my family bisniss is taxpayers and your taxes are due! Just kidding. Ha-ha."
"I liked the interaction you had with the kids. They really loved all of it."
Chelsie Lind, Our Savior's Lutheran Church, Faribault MN 507-331-2276
---
"The best part of your program is your message of perseverance and not letting a disability prevent you from doing what you do. It was great and then some!"
Mary Beth Plaschko, Northview Elementary PTA, Eagan MN 651-683-6820
---
Your show conveyed to me "I am an energetic, alive, faith-filled person. Look what I can do - What disability? This is who I am!"
Carole Zempel, Transfiguration Catholic Church, Oakdale MN 651-501-2204
---
"Loved your interaction with the audience, your HUMOR and quick wit. We're still asking, "How did he do that??" You truly are the Amazing Jeffo!!"
Linda Gorr, All Seasons Wild Bird Store, Eagan MN 651-459-0084
---
"Liked best Jeff's humor and positive message about overcoming the hang ups about disabilities. Beyond expectations!"
Jodi Homstad, Cub Scout Pack 132, Mpls. 612-781-2896
---
"Jeff is an excellent illusionist and had a great connection with our kids."
Jay Ludwig, City Hill Fellowship, Eden Prarie 952-941-7291
---
"I like Jeff's Bible references that were sprinkled throughout the show - Show was better than expected."
Peggy Rollins, Resurrection Lutheran, Woodbury 651-730-1000
---
"I liked best the jokes and pure entertainment. It was fun!"
Stephanie Huss, St. Paul Academy and Summit School, Extended Day After School, St. Paul 651-696-1567
---
"It was very entertaining, even for the adults."
Mary Hough, Cub Scout Pack 79, S. St. Paul MN 651-552-5982
---
"Great humor, great message. It was all great. Better than expected."
Jeff Dougherty, Aquarius Water Conditioning Inc., Oakdale MN 651-777-0448
---
"I really enjoyed your sense of humor blended with your magic. The kids loved it all. It was exactly what we wanted."
Dan Daly, Cub Scout Pack 406, Coon Rapids MN
---
"Thanks again for attending my son's birthday party on Saturday. The kids really enjoyed your program (as did the adults). My son has been playing with his magic trick set ever since you left - just loves it - so thank you for that too."
Jennifer Levenhagen, Woodbury, MN, 612-803-9380
---
"We loved your personal touch. Many asked for your business cards. Thanks again!"
Lou Pilney, 50th Anniversary Party, Eagan, MN, 651-686-4835
---
"It was truly amazing! Everyone was asking, "How did he do that?" More than what we could have expected."
Mary Ann Doyle, Seniors' Group, Rosemount, MN, 651-344-2722
---
"I appreciated how your program involved the kids. Very humorous! Your message gave me - and hopefully the rest of the audience food for thought."
Barbara Walhood, St. Alphonsus Church, Brooklyn Center, MN, 763-503-3340
---
"The children were very interested. You gave a positive message without them even realizing it. It was great!"
Lisa Pinke, Chaska Club Care, Chanhassen, MN, 952-556-6226
---
"Humorous. Nice exposure to diversity. Tone appropriate for the little ones."
Becky Maki, Pine City, ECFE Fallfest, Pine City, MN, 320-629-7331
---
"A great show for the kids and parents as well. Enjoyed it all - the magic, the jokes and a good message for all! A great sense of humor!! I'll be sure to pass out your cards."
Holly Jenkins, Northview Elementary, Eagan, MN, 651-454-8053
---
"I like the way Jeff held the interest of everyone - used the kids in tricks - liked Biblical theme."
Mrs. Engebretson, Our Father's Lutheran Women's Ministry, Buffalo, MN, 763-477-6300
---
"Funny, well done for children, good tricks, involved the audience - adults and girls. Great show! I will recommend you."
Doreen Gloede, Dakota Service Unit, Girl Scouts, Eagan, MN, 651-688-6450
---
"Liked the humor, involvement of the audience and messages. More than expected."
Shari Selensky, St. Stephen Church, St. Joseph, MN, 320-251-5066, 320-251-1520
---
"Liked the message of overcoming challenges and to know that people with disabilities are like everyone else. The jokes were great!"
Mike McCormick, Cub Scout Pack 427, Minnetrista, MN, 612-669-9061
---
"Colorful tricks. The message about Jesus was wonderful. Absolutely use me as a reference."
Sandra Altendorfer, North Emanuel Lutheran Church, St. Paul, MN, 651-489-0623
---
"We enjoyed having you visit our library yesterday! Both programs were lots of fun for kids and filled with lots of humor."
Maureen, Austin Public Library, Austin
---
"You are truly gifted. Your ministry touches so many people, children and adults alike, with a very faith based Christian message. Thanks again for coming to Calvary Church."
Russ Abrahamson, Calvary United Methodist Church, Shakopee, 952-445-2722
---
"Jeff's interaction with both kids and adults was great - It held there attention. Everything was great - very organized."
Kathy Soucy, Director, Richfield Fun Club, 612-866-6400
---
"His message and magic were great. He was wonderful and the children loved him."
Paula Jessap, Goddard Preschool, Chanhassen MN 55317, 952-934-3221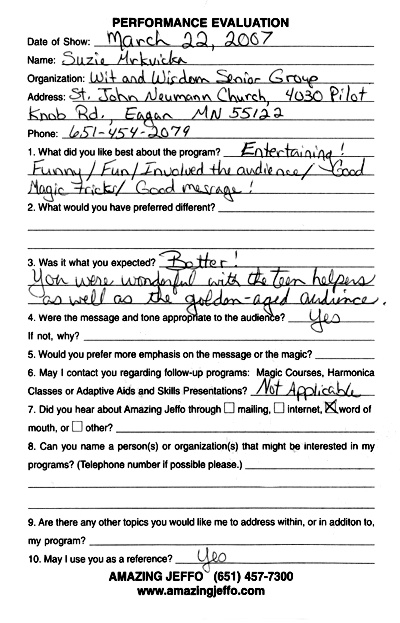 ---
"Greetings. We spoke last night following your performance at Cross of Glory. As I mentioned last night, I first caught your performance at Minnehaha Academy about 10 years ago. This time, I enjoyed watching my own three children taking in your show. I love your style!
I want to thank you for the impact you have. I appreciate the different messages you provide, from the price Christ paid for our salvation to moving away from disabilities to abilities. My daughter (in the audience last night) wears two prosthetic legs and I have worked with folks with developmental and physical challenges so I am a big proponent of focusing on abilities. Thanks for your message and impact; hope we "see" each other again!"
My best,
Lonny Evans, Director of Admissions, Chapel Hill Academy, Chanhassen, MN 55317
---
"I just wanted to thank you again for the wonderful show for the first graders at our school on Valentine's day. My son came home very excited, he talked about the show for hours, describing all tricks to my husband. He was especially impressed by the pages of the book you flipped, that went from colored to black and white to empty and back. The next day at school I asked several kids what trick they liked best and the favorites where superman, the invisible scarf, the flowers and (of course) the underwear trick. There were several kids that were not convinced that you were really blind, they had the wildest theories about how you may have painted your pupils to fool us. They just could not believe that you could do all these things without being able to see. Your show was full of amazing tricks, and also very funny! The boy posing as superboy was hilarious! I also liked the joke about the sunglasses! I am especially impressed by the way you connected with the audience, how you knew that children were raising their hands, and so on. Several parents thanked me for bringing such a wonderful performer to the school. I will for sure recommend you to everyone who is considering getting a magician for an event. Your good attitude and energy are truly an inspiration, and your show was great!"
School in Eden Prairie, MN
---
"Thank you for your wonderful performance. It was entertaining for not only our children, but for us parents as well. As a school psychologist by day, I work almost entirely with children in special education. I am always thrilled to see people with disabilities not only be successful, but to also educate those not fortunate enough to know just how capable a person with a disability can be. Thank you and good luck with what appears to be a rewarding career."
Chris Belmont, Cub Scout Pack 211, Treasurer, Sartell, MN
---
"Jeff - Your show was wonderful. Everyone thoroughly enjoyed it and was still talking about it days later. You have a very quick wit and put people at ease right away. It was a pleasure meeting you. Thanks again for a great show!"br> Diane McLane, Lakeside Point Senior Committee Chairperson, Eagan, MN 651-455-6956
---
"We were very pleased with what you so graciously shared with us - the Christian witness clearly of God's grace through faith in Jesus. Even more than expected! - The audience participation was great!"
Pastor David Frederickson, Immanuel Lutheran Church, Plainview, MN, phone: 507-534-3700
---
"I just want to let you know how well received you were at our Christmas party. So many people came up to me today to say how much they and their children enjoyed your show. (I hope you get quite a few parties booked from this exposure)
As discussed, please contact me about any future products you have developed for corporate awareness events. I think your approach is wonderful."
Janet Raycraft, HR, Lockheed Martin, work phone: 651-456-4391
---
"A great repertoire. Really able to connect with an audience. I know I will have Jeff back. Anytime folks ask me for a good magician, I recommend Jeff."
---
"Jeff always draws a big audience and he keeps the pace of his show quick, keeping the audience involved and, of course, always entertained."
Chris Madsen, Events Manager, Children's Museum, St. Paul, MN
---
"We liked best your message and modeling of; No matter how big the challenge, never give up."
Julia Jaakola, Anoka, MN, 8 Year Old's Birthday Party
---
"On behalf of everyone who attended your rousing shows today, I'd like to say a huge "THANKS!" Your performances were just outstanding! I have no doubt you've inspired many a young magician-to-be in Faribault today! Thank you too for reminding us of our own talents and abilities through your courageous and talented example. We'd love to have you back again sometime! Thanks for helping our summer to be so "magical"!"
Kathleen Ahern, Buckham Memorial Library, Faribault, MN
---
"I thought you did a wonderful job teaching important Biblical messages in a memorable way. We won't soon forget that we all have a gift from God to use and share."
David Knox, Pastor, West Union Lutheran, Carver, MN
---
"The Amazing Jeffo provides proof positive that a sense of humor and a sense of self-worth can more than make up for the loss of the sense of vision. For many of us, the magical part of his act wasn't the tricks and the gags. It was watching him perform so effortlessly and easily. His warmth and sense of humor help underscore the real message: You can overcome adversity and make significant contributions to your self and your community."
"Keeping Up" (A publication of the Minnesota Recreation and Parks Association)
---
"A variety of magic, humor, and inspiration about disabilities. Jeffo's programs kept all ages engaged."
Deb Odell, Counselor, Edinbrook Elementary, Brooklyn Park, MN
---
"It was beyond expectations; jokes, tricks, personality, sense of humor, attitude, - everything!"
Karen Koethe, Tender Time Learning Center, Maple Grove, MN
---
"Mr. Smith was fantastic. Wonderful sense of humor, very quick witted and had a sound message."
Karen Leistico, St. Paul's Lutheran, Hanover, MN
---
"The audience really enjoyed the humor and getting some time to laugh."
Jennifer Willette, Dakota County Dept. of Employment and Economic Assistance
---
"Enclosed is a check for $100 as an additional tip to show my appreciation for making our company picnic a huge success. You far exceeded my expectations in presenting a show that was entertaining for all ages.
The humor you brought into the show was great. The way you involved the audience made it especially fun and of course the magic tricks were amazing for all ages. Thank you!!"
Debbie Stang, Director of Employee Services, Midcontinent Media, Inc., Mpls., MN
---
"Combination of humor and illusion was great. The spiritual content was great. You are a walking testimony of how god can use us if we let him, even with big obstacles like blindness. Thank you for your testimony - We were blessed!"
Jan Carlson, Cross of Glory, Hopkins, MN
---
An Old Dog Learned A New Trick
Jon Alexander
Director of Operations, Kaposia, inc.
A couple of weeks ago, I went to an Ice Cream Social for the individuals supported by our Kaposia Hennepin services. As the event happened in the evening I had to juggle a couple of family responsibilities. My older son, David had a Little League baseball game and my wife had to work, so I brought my younger son, Ben (6) with me. Ben likes ice cream, so I figured he would have a good time. When we got there, we realized that there was also entertainment.
The Amazing Jeffo is a magician/comedian/inspirational speaker. As a young adult, Jeff Smith gradually lost his sight and is now blind. He uses his disability as part of his act with jokes like, "Long time, no see," and has the world's biggest set of Nerf binoculars. The Amazing Jeffo of course got the crowd into the act. He first gave our CEO, Jackie Mlynarczyk a device that made a loud noise whenever the jokes weren't too funny. Then he called someone from the crowd to help him with a magic trick. He went on for over an hour, and a good time was had by all.
We unfortunately had to leave before it was over to pick up David from his baseball game. When we got in the car, I told Ben to tell his brother where we had been. Ben told him we went to a party and there were root beer floats.
"What else was there?" I asked.
"Oh, yeah, there was this guy. And he was really funny," Ben said.
"Anything else about him?" I asked.
"Yeah, he did magic tricks and stuff," Ben said.
"And what else about him?" I asked.
"Oh, yeah, he gave this box to Jackie, and she kept pressing the button every time he told a joke. It was really funny," he said.
One more try.
"Ben. Anything else about the guy?"
"Ummm. Yeah, he did this trick where he made these handkerchiefs disappear."
You see, I had been trying to get Ben to say that the Amazing Jeffo was blind. I figured that I could talk with them about how cool it was that the Amazing Jeffo had overcome his disability to become a magician. I could do a little speech about how the Amazing Jeffo was living out his dream. The lesson I learned was that the Amazing Jeffo had already done my work for me. Ben didn't care that the Amazing Jeffo was blind. Ben just thought he was funny, and could do tricks. Ben didn't see the Amazing Jeffo as a blind magician/comedian/inspirational speaker. Ben just saw the Amazing Jeffo for who he was.
---
At Mount Carmel Family Camp we saw the "Amazing Jeffo" do magic tricks, share the Gospel, make us laugh so hard we nearly lost it, and inspire us with how a person can overcome disabilities and God can do something super with his life. Jeff Smith is blind and has arthritis which has disfigured his hands. Still he manages to do magic tricks very well. I was so impressed with him I took business cards and told our school principal and church about him.
Susan Bonluver, 9/9/04
---
Dear Jeffo:
We just wanted to write you a note to tell you thanks again for the amazing show you did for the children. We always enjoy your amazing magic and great sense of humor.
You did such a wonderful job tying the magic to the lessons we were learning. We know that it must have taken you a lot of extra time to put it all together because it was a specialized show so we wanted to send you more money than we talked about. We sure hope you are able to use the show again. The curriculum we used was called "Things Hidden" from our church so we will definitely let other backyard Bible club families know about you. It was a great culmination to our week.
Thanks again and may God richly bless you as you spread His Word through magic.
Blessings to you. - Keith and Lona
---
Dear Amazing Jeffo:
Thank you for being with us for Sunday School today. Your illusions, as usual, were seamlessly performed and you brought us laughs along with spiritual lessons. Our African dad, who was very confused as to why a magician would be brought in to a church, was introduced to a new concept. His children were pleased at the chance to participate. Your lessons were not just spiritual but your ability to function independently through your disabilities was also a powerful lesson for our children who have not seen that from people who struggle with disabilities in their cultures. For children who have suffered much in refugee camps, you gave them a chance to laugh and be amazed in church. Your audience of 25 ranged from 3 to 67 and all were blessed. Thanks again.
Eleane Ekstedt
Elim Covenant Church, Minneapolis
---
March 5, 2003
Dear Amazing Jeffo:
Thank you for sharing your time and talents with us at Cedar Park last night! The kids loved your slight-of-hand and your jokes. Your magic talents are just frosting on top of a BIG SPECIAL CAKE! Your patience, empathy, kindness, humor, honesty, and insight are the cake layers. You're an incredible gift to the world.
Leigh Johnson and Connie Elvin
ISD 196 Rosemount Community Education
---
Call The Amazing Jeffo - Jeff Smith @ 651-457-7300