Jeffrey smith will make you laugh; he will make you cry, even beg for mercy…and that's just a result of his jokes! Suffice to say, he loves to entertain!
For 29 years, Jeff performed as America's only blind magician with multiple disabilities. He is a comedian, a musician and author of 3 books:
Seeing Light in the Darkness, Splashes of Laughter in the Storm, and The Will to Laugh.
Through the journey of he and his wife Devon, their goal is to help others embrace life to the fullest. Jeff may be blind but also has a clear vision to share his story
---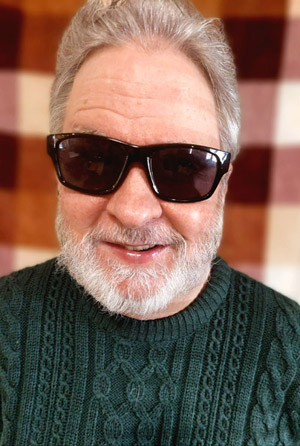 About the Authors
A blind magician? Preposterous!
An indispensable wife who lives with a traumatic brain injury and is learning Korean? Ridiculous!
There can be no doubt that the journey Jeff and Devon Smith have taken has become almost as astounding as the tricks he performed during his magic career.
Through their books and Jeff's speaking engagements, Jeff and Devon Smith, who live with disabilities, support a vision that all people are able to, and do make meaningful contributions to society. The message that the Smiths live out daily is that in extraordinary circumstances, attitude can be the difference between feeling defeated or thriving.
Their books: Seeing Light in the Darkness, Splashes of Laughter in the Storm and The Will to Laugh share how they use humor to cope with and even embrace daily challenges. The aim of these books are to illustrate what it is to live life one laugh at a time. The Smiths hope readers will be tickled and inspired by their books and laugh their socks off as they gain insight into what kindles their creativity, hope and resolve to carry them through life's unavoidable fires.
Click Here for Amazon About The Author Jeffrey C. Smith