Cub Scouts Presentations!! Special Pricing ~ Call Now!
"I, Amazing Jeffo, promise to do my best to do my duty to God and my country, to promote the values and purposes of Cub and Boy Scouts."
This upbeat, fast-paced magic show is tailored to "Blue and Gold" Cub Scout banquets as well as monthly pack meetings. Engaging magic and music is blended with a message borne out of Jeff's journey to illustrate core values promoted by scouting. Kids are encouraged with Amazing Jeffo's personal example of perseverance and faith. Through his modeling, it becomes clear to the kids what is needed to overcome challenges and maintain a hope for the future.
"Thank you for your wonderful performance. It was entertaining for not only our children, but for us parents as well. As a school psychologist by day, I work almost entirely with children in special education. I am always thrilled to see people with disabilities not only be successful, but to also educate those not fortunate enough to know just how capable a person with a disability can be. Thank you and good luck with what appears to be a rewarding career."
Chris Belmont, Cub Scout Pack 211, Treasurer, Sartell, MN
Highly visual magic complements a message that encourages a positive attitude toward life, leading to good character development. Throughout the show Jeffo uses magic and volunteer assistance from Tigers, Wolves, Bears and Webelos to teach pack members how challenges can become opportunities for personal growth and achievement.
Amazing Jeffo's message celebrates our God given ability to search, discover, and share while contributing to society. His outgoing personality engages the adults as much as the children. Combined with a hilarious sense of humor, he brings good cheer to all.
"He demonstrated abilities rather than perceived disabilities. Kids were engaged and attentive the entire time. Jeffo's ability to keep the kids focused helped them truly hear the message. His family involving approach will help us retain adult participation in the Scouting program."
Kevin Balfanz, cub Pack 249, Stillwater MN 651-351-1327
A variety of entertaining magic, stunts and routines perfectly tie in with the meaning behind the scouting colors blue and gold.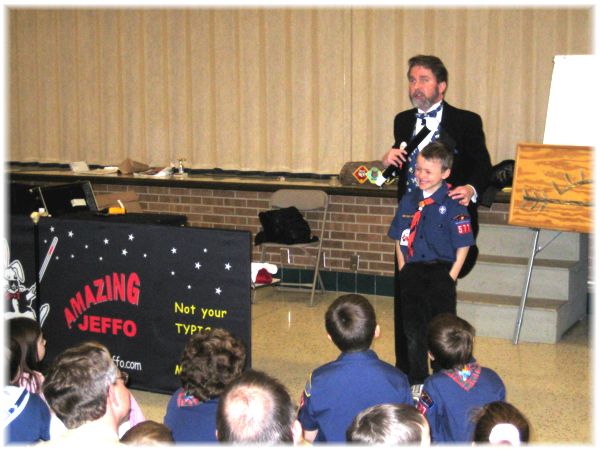 Definition of the Blue & gold colors:
"The blue stands for truth and spirituality, steadfast loyalty, and the sky above.
The gold stands for warm sunlight, good cheer, and happiness," Cub Scout handbook.
"Jeffo captivated our attention," says Linda Christensen, Cub Pack 433, Mahtomedi. "A child said to me after the show, "He's not really blind because he's so good"."
Check out Jeffo's Magic Classes. These magic classes really get the boys involved and help them learn many transferable life skills. Besides learning fun magic, scouts will develop a sense of achievement, as they increase self-confidence, enhance public speaking skills and learn to get along with others. It can also
serve as an activity badge opportunity.
"The boys learned that you keep trying and work through adversity. You can achieve and work through just about anything, as you've shown us quite aptly."
David Dylla, Cub Master, Cub pack 435, Burnsville MN 952-882-8009
"Jeff let the boys help during the show which gave them a real sense of team work. Afterward they were really fired up about learning magic. They learned an appreciation of not giving up and a sense of the dedication it takes to excel."
Terri Buttleman, Cub Master, Cub Pack 39, Mendota, MN
651-454-5879
"His magic show was highly entertaining, keeping all ages engaged. He encouraged us about using our God given abilities. If you're looking for a performer who can teach life lessons with humor and laughter Jeffo is it."
Debbie Strobeck, Cub Pack 634, Roseville, MN
651-636-1963
"A very positive experience for all. A lot of laughter and wonderment at the illusions. Jeffo showed that nothing is impossible. Find something you love and go for it! His interaction with the kids removed any question that, in spite of challenges, one can continue with life being a productive member of society."
Daniel Olson, Cub Master, Cub Pack 108, Eagan, MN
651-454-9314
One young Cub Scout, who volunteered during my show approached me afterward and said to me that he thought he knew the secret of one of my tricks. I complemented him by saying, "That doesn't surprise me. When you were helping me with a trick during the show I thought to myself, This boy is smarter than the average bear." He quickly responded, "That's cuz I'm not a Bear. I'm a Weblo."
---
Additional Amazing Jeffo Cub Scout References
Jodi Homstad
Cub Scout Pack 132
Mpls.
612-781-2896
---
Mary Hough
Cub Scout Pack 79
S. St. Paul MN
651-552-5982
---
Dan Daly
Cub Scout Pack 406
Coon Rapids MN
---
Mike McCormick
Cub Scout Pack 427
Minnetrista, MN
612-669-9061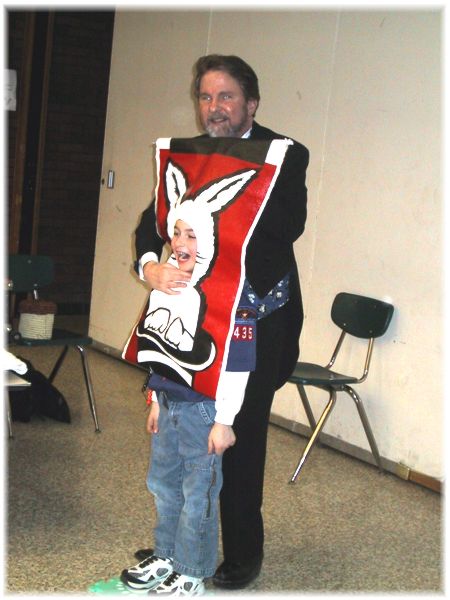 ---
Robert Janso
Cub Scout Pack 426
Lake Minnetonka, MN
952-473-1711
---
Jim & Mary Ann Elder
Cub Scout Pack 429
Excelsior, MN
651-457-7300
(Contact through Amazing Jeffo)
---
Chris Moreley
Cub Pack 78 Cub Master
Edina, MN
952-920-4434
---
The Amazing Jeffo, a.k.a. Jeff Smith, performs 150 shows per year.
Call The Amazing Jeffo - Jeff Smith @ 651-457-7300